Recipe: Sweetheart Banana Bread

Pin It
I saw something on Pinterest over the holidays that gave me the idea to make this. It looks WAY more difficult than it really is. It's just my standard Foolproof Lightened Banana Bread recipe, except with a sweetheart twist. I call this recipe "Sweetheart Banana Bread" for obvious reasons. You can easily make any shape or color you like and customize it for whatever occasion. Try a flower for the spring, shamrock for St. Patty's day, a tree for Christmas, etc. I think it's so adorable. I'm very proud of my Sweetheart Banana Bread, can you tell?!?
Let me show you quickly how to make it so you can impress your friends and family with this Sweetheart Banana Bread.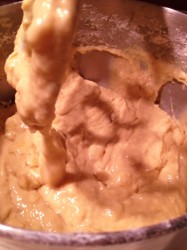 STEP 1:  Make banana bread batter. Get all of the step-by-step instructions for My Foolproof Lightened Banana Bread Recipe and make the batter. It's a VERY good recipe you should give a try. If you have your own recipe that you love I will overlook it this one time, however.
Step 2: Preheat your oven to 350°F (175°C) and prepare your 8×8 baking pan with a parchment sling and spray with non-stick cooking spray.
**Don't forget to remove the clips before going into the oven. I haven't forgotten yet…but I'll bet I will one of these days!
Step 3: In a small bowl, combine 2 cups of the banana bread batter and add in 1 ounce of liquid food color OR a teaspoon or so of the gel food color. I used the gel and it colored the batter VERY nicely.   Look how red it got. Perfect!
Step 4: Bake at 350°F (175°C) for 35-40 minutes or until a toothpick or skewer comes out clean. I began checking at the 30 minute mark. Just make sure no wet batter comes out with the toothpick.
Step 5: Remove the baked colored banana bread from the oven and place on a cooling rack to cool for at least 45 minutes. Do not attempt the next step until the bread is cooled completely or you will have a lot of trouble with smooshing (technical term).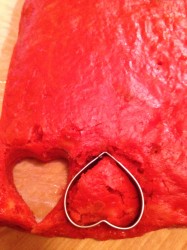 Step 6: I used a small loaf pan, so I in turn used a small heart cutter. It should be able to "hide" in the loaf and allow for a 1/4 inch at the bottom of the pan and about a half inch to an inch at the top after baked. Try to maximize your banana bread by alternating the heart top to bottom as shown in the picture above.
Step 7: Start out by placing a thin layer of the regular (uncolored) banana bread batter at the bottom of your prepared loaf pan (make sure to grease with non-stick cooking spray, per the Foolproof Lightened Banana Bread recipe instructions.)
Then take one red banana bread heart and place it in the pan, standing it up so it is close to the side of the pan.
Take another red banana bread heart and place it snug against the 1st heart.
Step 7 continued: Take another red banana bread heart and place it snug against the 2nd, 3rd, and 4th heart. It took 5 hearts to fill my pan. Depending on the size of your pan and the thickness of your hearts/shapes you may need more or less to fill the pan. The hearts must be closely fitted together and no gaps to be had.
Tip:  Make sure the hearts/shapes are straight. Shown here they are a little more haphazard than I had hoped for. It turned out fine, but when I sliced in between the hearts it looked funny on one side. It was fine since I just flipped over the piece, but if you can make it line up better than I did you will be better off.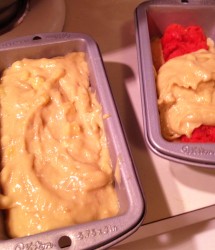 Step 8: Top off the loaf pan with regular banana bread batter until it is 3/4 full. Mine were a little fuller than I'd hoped for. I didn't want to have a partial pan of bread so I overfilled (hence the bread hanging over the side of the pan). In hindsight I should have thrown the extra batter away or made a muffin out of it.
Step 9: Bake the loaves at 350°F (175°C) for 1-hour for a standard 9×5 size loaf pan. Shown here are small loaf pans (not mini). I baked them for around 35-45 minutes. It really can't hurt to start checking with a toothpick/skewer or cake tester around the 30 min mark for even smaller loaves.
Step 10: Cool the loaves in the pan for 10 minutes before removing for a cooling rack. Cooling in the pan for no more than 10 minutes allows for the bread to come together and it will release from the pan better. Otherwise you risk pieces of the bread sticking…which doesn't make for a pretty loaf. Just trust me! Don't the hearts look cute already? This was so gratifying to see…I was so excited when I could see them already. It helps to make sure they are pressed tight against the side of the pan so you don't get any of the regular batter seeping into the side.
Now check it out sliced. It's so cute, isn't it? Make this and everyone will LOVE it (pun intended!) Seriously…if you make this, I'd love for you to share your experience in the COMMENTS below.
Enjoy the comfort of food!
++++++++++++++++++++++++++++++++++++++++++++++++++++++++++++++++++++++++++++++++++++
Foolproof Lightened Banana Bread – Printable Recipe (follow steps above for Sweetheart Banana Bread):
++++++++++++++++++++++++++++++++++++++++++++++++++++++++++++++++++++++++++++++++++++
PS: If you see mistakes (i.e., spelling errors or inconsistencies in the recipe), please tell me right away. I appreciate any help I can get!