Recipe: Easy No-Bake Nut Goodie Bars

Pin It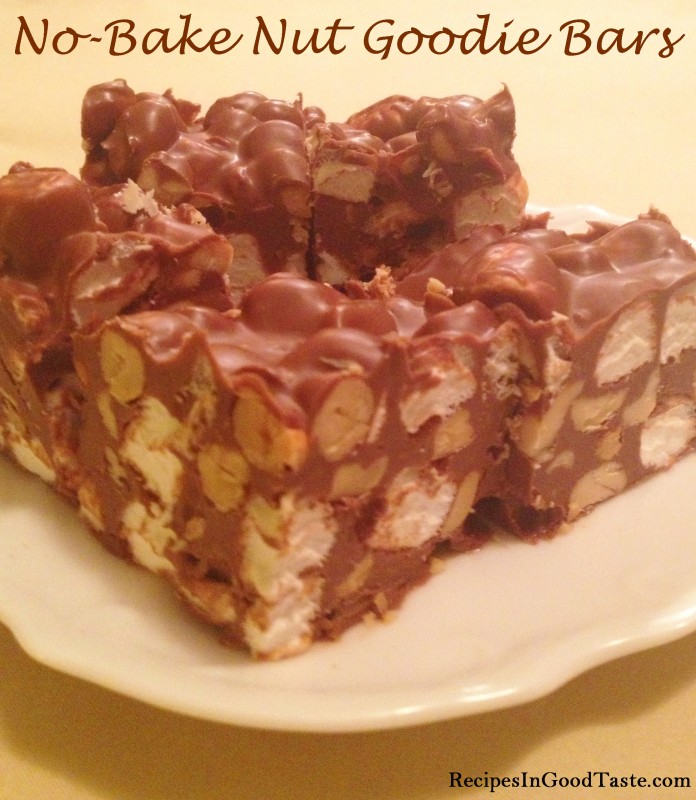 When I think of the holidays, I think it's time for baking (or making) and sharing.  I'm not sure where the recipe came from; it's just been in our recipe box for the past 20+ years. They're super simple and very fast to make too. No baking, only 5 ingredients, and they take minutes to prepare. It'd be hard to mess these up. Just follow my instructions and you'll have a delicious holiday treat to add to your dessert trays or you give it away as gifts.  Everyone loves these, so you will be a hero. I won't waste any more time…let me show you how to make these.
<Don't like step-by-step pictures? For a standard printable recipe, CLICK HERE or scroll all the way to the bottom>
Here are the ingredients:  butterscotch chips, semi-sweet chocolate chips, creamy peanut butter, mini marshmallows, and salted Spanish peanuts.
Line an 8×8 pan with parchment paper, grease with non-stick cooking spray or butter and set aside.
In a microwave safe bowl, combine the butterscotch chips, semi-sweet chocolate chips, and peanut butter.
Microwave in 30-second intervals; stirring after each 30-seconds.
Once the mixture is completely melted and smooth…
…add the mini marshmallows & Spanish peanuts and stir to combine.
Pour mixture into prepared 8×8 pan & refrigerate until hardened.
Once thoroughly cooled & hardened, cut into bars.
Store the bars in an airtight container for a week or freeze in a sealed container for up to 2 months. To double recipe, use a 9×13 & simply double the ingredients (or a 10×15 jelly roll pan for thinner bars). After you make this once, you will make a double batch. It's that good!
One taste and you and your friends and family will be hooked on these. I hope they become a favorite go-to recipe for the holidays like my family. If you give this recipe a try, please COMMENT below.
Enjoy the comfort of food!
++++++++++++++++++++++++++++++++++++++++++++++++++++++++++++++++++++++++++++++++++++
Printable Recipe:
++++++++++++++++++++++++++++++++++++++++++++++++++++++++++++++++++++++++++++++++++++
PS: If you see mistakes (i.e., spelling errors or inconsistencies in the recipe), please tell me right away. I appreciate any help I can get!