Recipe: Roasted Butter Pecan Sweet Potatoes

Pin It
This recipe for Roasted Butter Pecan Sweet Potatoes is something I created for Thanksgiving. I was asked to bring a sweet potato side this year and I didn't want to bring anything too "boring". I also had a bunch of pureed winter squash that I wanted to somehow work in this recipe. Well I have to report, it turned out amazing. How can you go wrong with a butter pecan topping? Every bite, literally, melts in your mouth. It's pretty easy to whip up too. Buttery, creamy goodness!
I also came up with a recipe to use up the leftovers.  Be ready for NO leftovers though. I had made a double-batch and with all the sides, I had about 1/3 of it left. I made it into a pecan sweet potato pie. It was ridiculously good. I ate the whole dang thing, except for one bite I offered up to my husband. I will share this recipe soon too – that I will show adaptations if you don't have this recipe made first.
Let me show you how easy it is to make this recipe for Roasted Butter Pecan Sweet Potatoes.
<Scroll all the way to the bottom for a standard printable recipe>
Here are the ingredients: Puree: sweet potatoes, pureed winter squash (or canned pumpkin puree), granulated sugar, butter, milk, and salt; Topping: salt, pecans, brown sugar, and butter.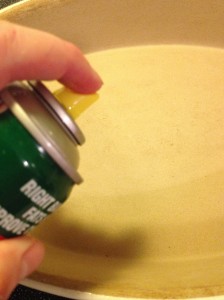 Preheat your oven to 425° F (215°C) and prepare an 8×8 baking dish by spraying with non-stick cooking spray or buttering. You probably wouldn't need to, but I do it for an insurance policy. I hate baked on crud on pans.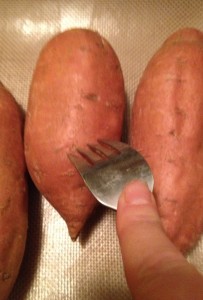 Pierce each sweet potato with a fork 5 times or so on each side. Place on a baking sheet and roast at 425° F (215°C) for 30-40 minutes or so.
To multitask and make the most of heating the oven, toast pecans in the oven at the same temp for 5-10 minutes. It's extremely important to keep a close eye on them so they don't burn. It happens so fast.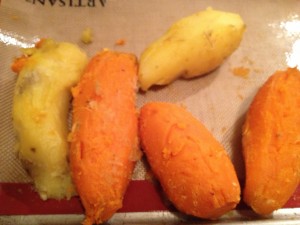 The sweet potatoes will be ready once you can easily pierce the skin with a fork or paring knife.
Cool sweet potatoes slightly before peeling. Skin should easily peel off.
Note: As you can see I used 2 kinds of sweet potatoes – the white and orange varieties. They both taste good in this recipe.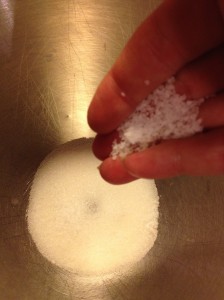 In a large mixing bowl, add the sugar and salt.
Next add the winter squash – either just roasted or pureed (or canned pumpkin).
For the squash: cut winter squash in half and remove the seeds. Place on a baking sheet and roast at 425° F (215°C) for 30-40 minutes or until you can easily pierce the skin with a fork or paring knife (you can do this alongside the sweet potatoes and pecans). Cool slightly before scooping out the squash flesh and adding to the mixing bowl.  I used precooked & pureed winter squash. You can also substitute pumpkin puree from the can.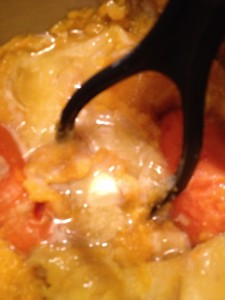 Add the melted butter and the peeled sweet potatoes and mash, mash, mash…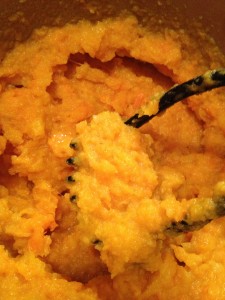 …until you get something that looks like this. It won't be perfectly smooth – will have lumps. That's OK.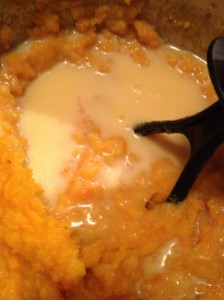 Next add the milk and mash again. It should be getting smoother as you go.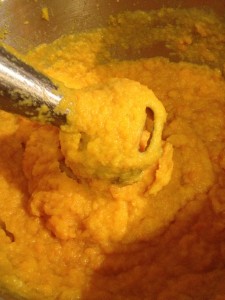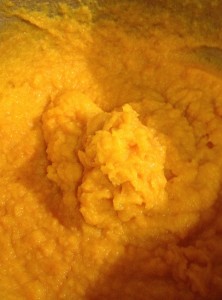 Time for one of my favorite handy kitchen tools, the immersion blender! If you don't have one, ask for one for Christmas or your birthday. Seriously. I love this for anything that needs to be smooth. I used it for my salsa verde, creamy soups, etc. It's fantastic. You can also use a blender OR a food processor in batches. But be careful not to over-fill. This will be very hot.
Now that's what I'm talking about…smooth!! Spread the pureed mixture in the prepared pan and set aside.
Reduce oven temp to 375° F (190°C).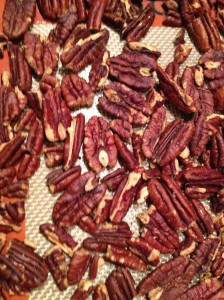 When the pecans are toasted, remove them from the oven to cool. I added about 1/8 teaspoon kosher salt too…but not 100% needed.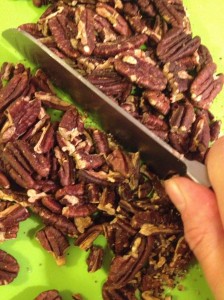 Once the pecans are cooled you can finely chop them.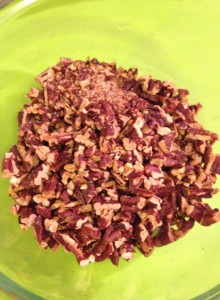 For the topping, combine well the toasted chopped pecans, brown sugar, the salt, …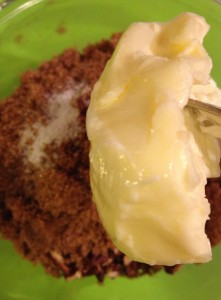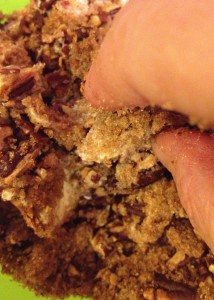 …and softened butter.  Mix with a fork until combined. You may want to use your fingers for this. WARNING: Don't taste this mixture or you will need to make more.  It's that good!
Top the pureed mixture in the pan with the pecan mixture and bake at 375° F (190°C) for 18-20 minutes to warm through and top is baked. Serve hot.
This is seriously the best sweet potato side dish I've ever had. Just look at it. It looks so buttery and creamy. I'm salivating just looking at this photo. If there are any leftovers, see my recipe for a Pecan Sweet Potato Pie. It was utterly delicious.
If you give this recipe a try, I'd love to hear your COMMENTS below.
Enjoy the comfort of food!
++++++++++++++++++++++++++++++++++++++++++++++++++++++++++++++++++++++++++++++++++++
Recipes in Good Taste Social Media – Please follow:

  PINTEREST

  FACEBOOK
   TWITTER
  INSTAGRAM
   LINKEDIN
  STUMBLEUPON
  GOOGLE+
++++++++++++++++++++++++++++++++++++++++++++++++++++++++++++++++++++++++++++++++++++
Printable Recipe:
++++++++++++++++++++++++++++++++++++++++++++++++++++++++++++++++++++++++++++++++++++
Please share this recipe: