Recipe: Apple Pecan Pancakes

Pin It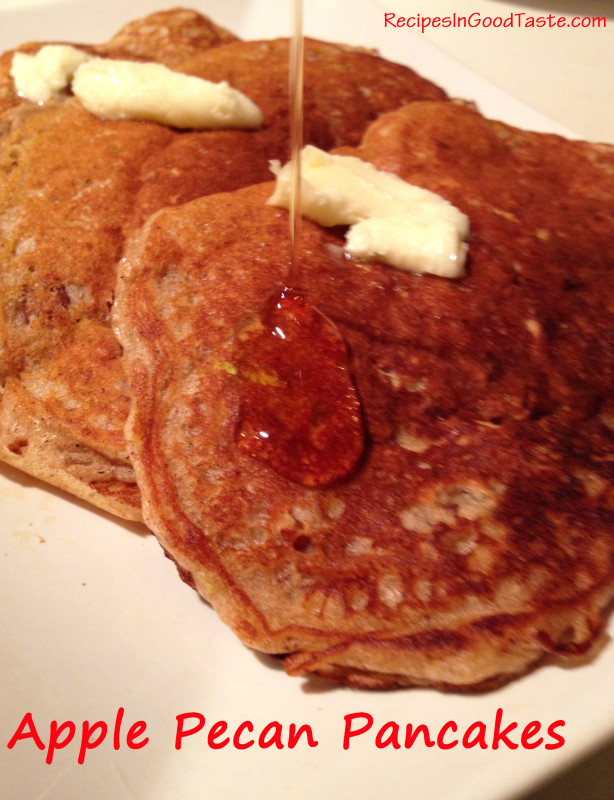 Yesterday morning I woke up to 35 degree temperatures and an empty house.  So instead of bringing out the usual box of Raisin Bran, I decided to make a decadent breakfast for me, myself and I.  I refrained from eating them all, however it was a struggle <I ate 4>. You'll know what I mean when you make these Apple Pecan Pancakes for yourself.
The beauty of these pancakes are you can freeze them and reheat another day.  I do that all of the time. I spend an hour in the kitchen and have pancakes for weeks!
Let me show you how to make these scrumptious Apple Pecan Pancakes.
NOTE: For those of you who are used to reading my blog posts, I have decided to change my style from step-by-step pictures to just a few pictures. I needed to do this to save time to allow me to continue to blog. I'm hoping you still get some useful tips and guidance as you try out my recipes. Please comment below if desired.
For a standard printable recipe, CLICK HERE or scroll all the way to the bottom> 
I love going to the Apple Orchard every autumn. My husband and I make a morning of it. First we run through the drive-thru at Caribou Coffee for a warm beverage. Next we make our way south … about 45 minutes to an hour drive depending on traffic.  We determined the best plan is to prepare to be at the orchard when they open AND go on a Sunday vs. Saturday. Sunday morning most people are at church until around noon. If we go to church Saturday that week we can trick the system. And if we arrive right at the time of opening we get 1-2 hours without the flood of orchard goers.  We got to the orchard a bit late this year but all-in-all it was another fun time.
Now that I have 2 giant bags of apples, what shall I do with them? I have a few things in mind and one of my favorite things to do is research NEW recipes (like this Apple Pecan Pancakes recipe). I will be making the usual suspects though…apple butter, apple jam, apple donuts and of course apple pie.  I had a bunch leftover last year so I made a large amount of apple pie filling. This has come in very handy the past few months.
Anyway, this brings me to a new recipe for Apple Pecan Pancakes I found from Taste of Home. I wanted to use up some of my apples and I love apples and pecans combined. So away I went. The first thing I had to do was change a few things in the recipe to make them a bit healthier.  I love adding plain Greek yogurt to my recipes when it calls for buttermilk, oil or butter.  I have great luck with subbing plain Greek yogurt for these 3 things in muffins, quick breads and pancakes. I would not attempt this for cookies, however. Don't do it!
In a large bowl whisk together the flour, sugar, baking powder, baking soda, salt and spices. Whisk dry ingredients together until there are no lumps. Set aside.  Next, in a separate bowl whisk the eggs, yogurt and milk until blended and no yogurt lumps are present.  Using Greek yogurt it may take a bit of whisking.  Pour the wet ingredients over the dry mixture and fold until moistened. There may be some lumps, but that's okay. Lastly, stir in the shredded apples and chopped pecans.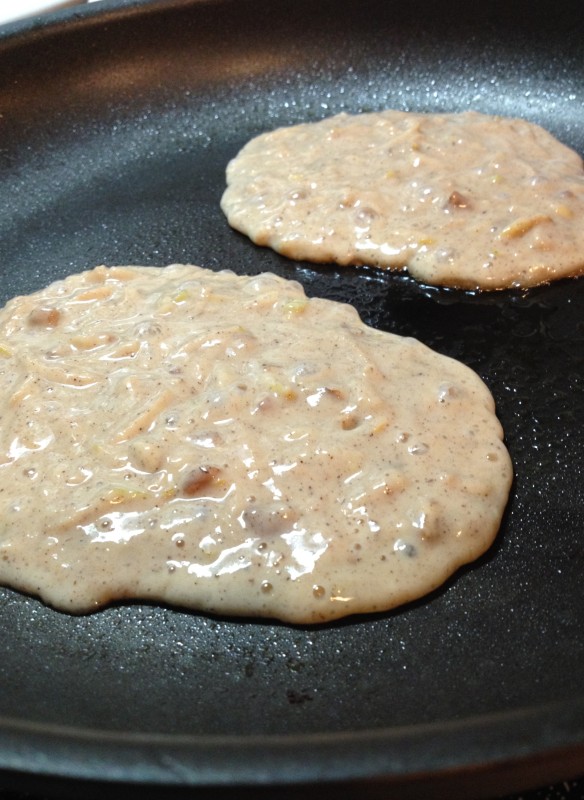 Preheat lightly greased pan or griddle to medium heat. Pour batter onto the preheated pan/griddle using a ¼ cup measuring cup. Continue to cook until the bubbles on top begin to pop and bottoms turn a golden brown (take a peek underneath with a spatula). This should take about 2-3 minutes depending on the pancake size.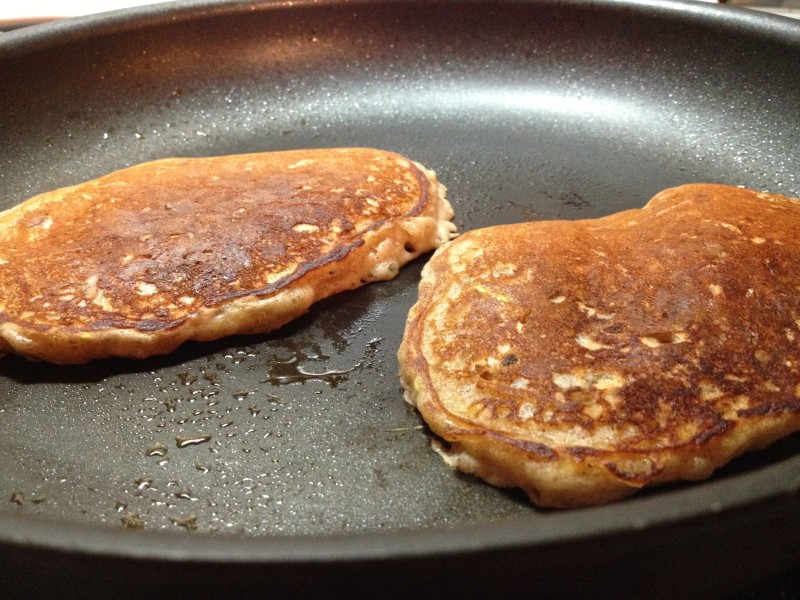 Flip pancakes and continue to cook until second side is golden brown (another 1-2 minutes). Golden brown and so hard to resist.
Immediately upon removing from the pan, add a generous pat of butter to each pancake.
Now for the syrup…auburn, glistening, sweet syrup. Let it flow…and flow.
Don't they make you want to grab a fork and inhale them? These Apple Pecan Pancakes really hit the spot on a cool, damp Autumn Saturday morning. And they have a healthy twist to them that helps the post breakfast guilt. No guilt with these pancakes!
If you try this recipe for Apple Pecan Pancakes, please COMMENT below. I want to hear your results!
Enjoy the comfort of food!
++++++++++++++++++++++++++++++++++++++++++++++++++++++++++++++++++++++++++++++++++++
Printable Recipe:
++++++++++++++++++++++++++++++++++++++++++++++++++++++++++++++++++++++++++++++++++++
PS: If you see mistakes (i.e., spelling errors or inconsistencies in the recipe), please tell me right away. I appreciate any help I can get!