Recipe: Pecan Pumpkin Pie Fudge

Pin It
This recipe for Pecan Pumpkin Pie Fudge is a double whammy for me. If you've read my other pumpkin recipe posts, you know I LOVE pumpkin. What you probably don't know is I am also a huge nut lover. I love virtually all nuts, some more than others…but all nuts nonetheless. I think pumpkin and pecans go together like peanut butter and jelly.  I could go for a pumpkin pecan mixer from Culvers.  Mmmm…I'm getting hungry just thinking about it.  I tried this new recipe last night after bumping into it on Pinterest (this was adapted slightly from this Land O Lakes recipe). I was speechless, this morning, when I snuck a taste before breakfast.  If you even just barely like pumpkin, you have to give this recipe a try!
Note: If you are crazy and don't like nuts OR if there is a nut allergy you are worried about – I think this recipe would be great without nuts too.
Let me show you how to make this recipe for Pecan Pumpkin Pie Fudge.
<Scroll all the way to the bottom for a standard printable recipe>
Here are the ingredients: butter, granulated sugar, light brown sugar, half & half (I used low-fat), salt (I used kosher), pumpkin pie spice, canned pumpkin puree (I used fresh pumpkin puree), miniature marshmallows (I used large marshmallows that I cut into small pieces), white chocolate baking chips, vanilla extract, and pecans.
Line an 8 or 9-inch square pan (I used a small bar pan) with non-stick aluminum foil extending over edges for over-hang. If you are not using non-stick aluminum foil, be sure to lightly grease with cooking spray or butter.  (Note: non-stick aluminum foil is perfect for this recipe if you can find it.) Set aside.
Add the butter and both granulated sugar and light brown sugar to a small sauce pan (3 quart). I made the mistake of using too large of a pot and it was tough to measure the temperature. Next time I will use a smaller pot OR make a double batch.  Who am I kidding; I will make a double batch.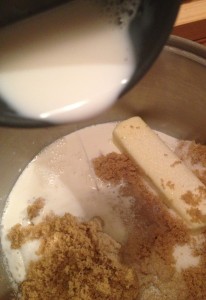 Next add the half & half,…
…salt, and pumpkin pie spice (How to Make Pumpkin Pie Spice). Put the stove on medium heat to begin to melt and dissolve.
Add pumpkin puree and over medium heat, cook for about 8 minutes. Be sure to stir constantly so you don't scorch the mixture. Keep stirring until the mixture boils and both sugars are completely dissolved.
Stir, and stir, and stir until the sugars and butter are melted and everything is thoroughly combined.
Reduce heat to medium-low temperature and cook another 15-20 minutes, stirring occasionally. Cook and check temperature with a candy thermometer…
…cook and check temperature with a candy thermometer…
Cook and check temperature with a candy thermometer…
…until mixture reaches 234°F on a candy thermometer (this is the soft ball stage). This took me a lot longer than the original recipe. It was more like just over 20 minutes.
Remove from heat and add mini marshmallows, white chocolate baking chips and vanilla extract.
Stir until mixture is very smooth.
Keep mixing until all the marshmallows and chips are melted and thoroughly combined. This can take a few minutes.
Chop the pecans finely.
Stir in the chopped pecans.
Pour into foil sling prepared pan and cool completely. A refrigerator speeds up the process.
This is what it looks like after chilling in the refrigerator over-night.
Remove fudge from pan by lifting using foil sling. Cut into 1-inch squares. Or for a whimsical look, cut with a small pumpkin shaped cutter. I suggest only cutting what you are eating or serving and keeping the rest intact.  It will help to keep it fresher longer.
Store the fudge in the refrigerator in an air-tight container for up to 3 weeks.
I hope you give this Pecan Pumpkin Pie Fudge a try!
Enjoy the comfort of food!
++++++++++++++++++++++++++++++++++++++++++++++++++++++++++++++++++++++++++++++++++++
Printable Recipe:
++++++++++++++++++++++++++++++++++++++++++++++++++++++++++++++++++++++++++++++++++++
PS: If you see mistakes (i.e., spelling errors or inconsistencies in the recipe), please tell me right away. I appreciate any help I can get!