Recipe: Pecan Pie Squares

Pin It
These Pecan Pie Squares will be your new favorite recipe! So many people I know LOVE these. In fact I think it's the #1 recipe where I get asked for the recipe. They're really that good! It tastes a lot like pecan pie, but it's in cookie bar form. It helps me exercise portion control too.
I have had this recipe for Pecan Pie Squares for about 5 years now and get asked if I'm making them every year since I started.  It's something I will probably always make around the holidays for my dessert trays. A few years back I found a recipe similar to this one on Martha Stewart and have since have adapted it considerably.  My version is mainly a lot less of the shortbread crust and a lot more of the caramel pecan filling. I hope you like this recipe as much as my family and friends! Let me show you step-by-step how to make these Pecan Pie Squares.
<Don't like step-by-step pictures? For a standard printable recipe, CLICK HERE or scroll all the way to the bottom>
Here are the ingredients: Butter, light brown sugar, salt, flour, more butter, more light brown sugar, honey, granulated sugar, half & half, more salt, pecans, and vanilla extract.
Place your oven rack in center of the oven. Preheat oven to 375°F (190°C).  Line a jelly roll pan (10 1/2 x 15 1/2 x 1) or similar size rimmed baking sheet with parchment paper to make handle to allow for ease in removal. Spray with cooking spray & set aside.
TIP: I use binder clips to secure the parchment to the sides of the pan.
In the bowl of an electric mixer fitted with the paddle attachment (you can use a hand mixer too or mix by hand with a wooden spoon), mix butter and brown sugar on medium speed until light and fluffy. This should take about 2-3 minutes using an electric mixer of any type (by hand, mix vigorously for about 5 minutes).
Add the salt and mix to combine.
With your mixer on medium speed, add 1 cup of flour at a time – mixing after each. Do not over mix.
TIP: I like to see a bit of flour after each addition so I do not over-mix.
Add all of the remaining flour by about a cup until the dough begins to come together in large clumps; squeeze a handful to see if it holds together or just crumbles (Note: this is a dry-ish mix but the butter holds it together).  If mixing by hand, gently fold in flour one cup at a time with a rubber scraper.
Using a rubber scraper, mix the final bit of flour you saved (to not over-mix)
Spread the dough evenly into the prepared pan.
Press the dough into the pan, getting to all corners.
Prick the dough with the tines of a fork.  Chill in the refrigerator for 20 minutes before baking.
After the dough has chilled, bake at 375°F (190°C) until golden brown. This will be about 18 to 20 minutes.
Transfer pan to a wire rack to cool completely. To speed up cooling, place in refrigerator for 20 minutes. Otherwise wait at least 40 minutes at room temperature.
Reduce the oven to 325°F (163°C).
Melt the butter in a medium saucepan over high heat.  It's important to use a large enough pan so that the mixture doesn't bubble over. In the last stage, the mixture will bubble up a lot so keep that in mind.
Add the brown sugar to the melted butter and stir to combine.
Add the granulated sugar, honey, half & half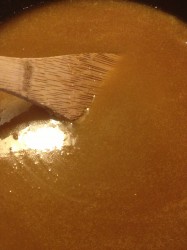 Keep heat to medium high heat and bring to a boil, stirring constantly.
Mixture will bubble as it thickens. Continue to cook until mixture coats the back of a spoon, about 5 minutes.
Remove the pan from heat and stir in the vanilla. It's normal for it to bubble a lot (it's why a larger pan is necessary.)
Add in the pecans and stir to combine.
Pour filling onto the cooled crust.
Bake at 325°F (163°C) until filling bubbles. This will take between 15 and 20 minutes (bake longer if necessary  to see bubbles).

Carefully transfer pan to a wire rack to cool completely.
Once completely cooled, run a knife around edges of the pan not covered by parchment.
After all sides are loosened, remove the parchment sling from the pan and place on a cutting board (filling side up). Use a knife to cut into 1-by-2-inch bars.  You can store them in an airtight container up to 1 week.
I really do love these Pecan Pie Squares. Caramel, nutty goodness! If you give this recipe a try, please don't forget to COMMENT below.
Enjoy the comfort of food!
++++++++++++++++++++++++++++++++++++++++++++++++++++++++++++++++++++++++++++++++++++
Printable Recipe:
++++++++++++++++++++++++++++++++++++++++++++++++++++++++++++++++++++++++++++++++++++
PS: If you see mistakes (i.e., spelling errors or inconsistencies in the recipe), please tell me right away. I appreciate any help I can get!