Recipe: Gluten Free (Flourless) Peanut Butter Kiss Cookies

Pin It
There are so many people that do not eat gluten for health reasons these days. I know you're probably like me and know at least a half dozen people who are either gluten intolerant, allergic to gluten, or have celiac disease.  One of my friends gets severely sick to her stomach if she's exposed to even the slightest gluten. I have another who has an EpiPen standing by at all times so she doesn't go into anaphylactic shock. I have a handful of other friends and family who just plain feel better when they don't eat gluten.  I can't imagine having to avoid something so prominent in our food today.
I wanted to find something that could fill the sweet void during the holidays for my gluten-free friends & family. I think I've found a remake of a holiday cookie that tastes every bit as good as the classic version (adapted from RECIPEGIRL). It's the Peanut Butter Kiss cookie OR Peanut Butter Blossoms as my family calls them.  They are a crackly peanut butter cookie with a Hershey's kiss in the center.  I think I may even like this version better than the classic recipe made with flour. Don't tell my mom.   Let me show you how easy these Gluten-Free Peanut Butter Kiss Cookies are to make.
<Don't like step-by-step pictures? For a standard printable recipe, CLICK HERE or scroll all the way to the bottom>
Here are the ingredients: creamy peanut butter, light brown sugar, salt, baking soda, eggs, vanilla extract, granulated sugar, and chocolate kisses.
Preheat your oven to 350°F (175°C).  Line cookie sheets with parchment or nonstick baking liners (like a silpat) and set aside.
Unwrap your chocolate kisses and set aside (one 11-12 oz. bag should do for this recipe).
In a large mixing bowl, beat at medium speed adding the peanut butter, brown sugar, ….
… salt, and baking soda until well combined (this will take about 1-2 minutes with any electric mixer).
Add the eggs and vanilla extract and beat until well combined.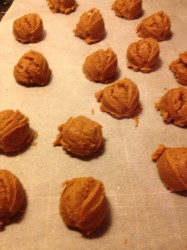 Using a teaspoon (heaping) or a standard cookie scoop, scoop out the cookie dough and roll into 1 1/2-inch balls (this is a bit smaller than a golf ball).
Roll the cookie dough balls into granulated sugar.
Place the sugared cookie dough balls about 2-inches apart on cookie sheet.
Bake the cookies at 350°F (175°C) 11 to 13 minutes or until they are puffed and starting to crackle.
Press a chocolate kiss into the center of each as soon as you remove the cookie sheet from the oven.   Chill the cookies immediately by placing the cookie sheet into the freezer or refrigerator (I set mine on my freezer in the garage – I live in Minnesota). This helps to set the kisses since they begin to melt a bit as soon as you place them on the cookie.
As soon as the chocolate is set you can remove the cookie tray and bake more cookies.
Store the cookies at room temperature in a covered container for up to a week. You can also freeze these cookies for a few weeks – but make sure they're tightly sealed.   Note: These cookies are more fragile & have a bit more tender crumb compared to the classic Peanut Butter Kiss cookie recipe.
These are by far the best gluten-free treat I've made. I plan to share the cookies I made with my g-f friend. I hope you give this recipe a try…even if you don't know anyone on a gluten-free diet.  If you do try the recipe, please COMMENT below.
Enjoy the comfort of food!
++++++++++++++++++++++++++++++++++++++++++++++++++++++++++++++++++++++++++++++++++++ Printable Recipe:
++++++++++++++++++++++++++++++++++++++++++++++++++++++++++++++++++++++++++++++++++++
PS: If you see mistakes (i.e., spelling errors or inconsistencies in the recipe), please tell me right away. I appreciate any help I can get!