Recipe: Fabulous French Onion Dip

Pin It
I enjoy chips and dip, but this recipe for Fabulous French Onion Dip is out of this world. It's so flavorful with the sautéed onion and garlic. This is a definite winner at a party or pot luck. It's really only 5 ingredients if you do not count the salt and pepper too. It's a fast and easy snack  to share with your friends and family.
I've also adapted it to make it healthier than traditional French onion dips (adapted from: The Chew). I use fat free Greek yogurt and mayo made with olive oil. I wouldn't say it's healthy, but it's better for you than the original version.   Let me show you how to make it.
<Don't like step-by-step pictures? For a standard printable recipe, CLICK HERE or scroll all the way to the bottom>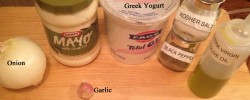 Here are the ingredients: Olive oil, onion, garlic, Greek yogurt, mayonnaise, salt and pepper.
Slice onion as pictured above. It really doesn't matter how you cut your onion as long as it's not too large of pieces and they are approximately the same size for cooking time.
Heat the olive oil in a sauté pan over medium heat.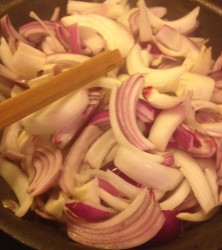 Add the sliced onion and then toss to coat in oil. Try to arrange the onion into an even
layer in the pan. Stir occasionally.
After 2 minutes, add the peeled, whole garlic cloves.
Continue to sauté until the onions (and garlic) caramelize, about 15 minutes. Remove from heat.
Combine remaining ingredients (mayonnaise, Greek yogurt, and salt & pepper) in a food processor (or blender). Give it a few pulses to combine.
Add the onions and garlic and pulse until thoroughly combined.
Onions and garlic will be a fine dice but still visible chunks. Season with more salt and/or black pepper if desired. Transfer to the refrigerator until you are ready to serve. Serve chilled.
Make sure to chill thoroughly before enjoying this dip. If you try this recipe for Fabulous French Onion Dip, please COMMENT below. I want to hear your results!
Enjoy the comfort of food!
++++++++++++++++++++++++++++++++++++++++++++++++++++++++++++++++++++++++++++++++++++
Printable Recipe:
++++++++++++++++++++++++++++++++++++++++++++++++++++++++++++++++++++++++++++++++++++
PS: If you see mistakes (i.e., spelling errors or inconsistencies in the recipe), please tell me right away. I appreciate any help I can get!