Recipe: Easy Crispy French Toast

Pin It
I'm NOT one of the 31 million Americans who skip breakfast regularly. I'm always hungry in the morning so I can't even imagine voluntarily skipping the first meal of the day.
I love all breakfast food too; I could eat it any time of day. I can honestly say French toast is my all-time favorite breakfast item too. Who wouldn't love French toast? It's crispy on the outside, soft and slightly custardy with butter and syrup. You have to be almost insane not to want to dig-in to stack of French toast.  I have been known to make a large batch and freeze it for many mornings of enjoyment.  Since I love it so much, I've come up with a good recipe. French toast is not difficult, but when made fabulous you will be in pure bliss.
Let me show you step-by-step how to make this fast and easy…and need I say delicious…breakfast (or lunch or dinner)!
<Don't like step-by-step pictures? For a standard printable recipe, CLICK HERE or scroll all the way to the bottom>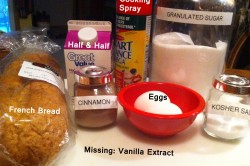 Here are the ingredients:  Eggs, Half & Half (or milk), vanilla extract (missing from picture) ground cinnamon, kosher salt, granulated sugar, loaf of French bread, and cooking spray.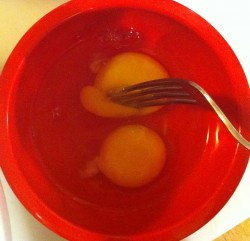 The first step is to take 2 eggs and beat them until their good and whipped.
Add your beaten eggs to a shallow enough bowl for dipping your bread slices.  Next, add in 1/2 cup half & half (or milk) and whisk together with a fork (or whisk if you wish).
Some of you may think this next ingredient is optional.  I severely disagree. It is one of the ingredients that make this French toast amazing. You can technically leave it out, but I challenge you to add more, not leave it out. So add in 1 teaspoon or more of the vanilla extract and whisk to combine (with fork or whisk).
Next add in 1/2 to 1 teaspoon of ground cinnamon (I like cinnamon, so I add a full teaspoon), a tiny pinch of kosher salt, and a tablespoon of granulated sugar. The granulated sugar helps to make the delicately sweet and crispy outer layer. Yum!
Whisk again with your fork or whisk. It's a bit more difficult to incorporate the ground cinnamon. I don't care about the cinnamon clumps, but if you do….TIP:  add the cinnamon directly to the eggs right before you whisk them. It tends to incorporate better. Ok, your French toast custard is ready.
Now break out the French bread. I bought a "demi" or smaller loaf (I also purchased whole wheat to try for a healthy twist). That was perfect for 2 eggs. If you have a crowd and need more French toast, just get a standard size French bread loaf and double the ingredients for the custard.
Slice the French bread in 1 to 1 1/2 inch slices.
Preheat your skillet/pan (or griddle) over medium-high heat and coat with non-stick cooking spray. To gild the lily, add a 1/2 to 1 teaspoon of butter for each batch.
Carefully dunk or dip each slice of French bread in the custard. Don't forget to flip them over and coat both sides well. They're ready for the preheated skillet/pan (or griddle).
Add to the preheated skillet or pan as many pieces of custard soaked French bread as there is room. Try not to crowd too much.
After 2 minutes or so, take a peek under one of them to see if it's showing signs of golden brown. Keep an eye on them though. Sometimes they can burn quickly. Flip once you get them to a desired golden brown color (2-4 minutes). After you flip them over, brown other side another 2-4 minutes.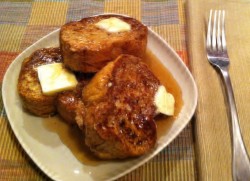 Serve with butter and syrup – as shown above. Or for a fruity twist, top with fresh berries, powdered sugar and whipped cream.
This is my idea of heaven. I wish I could eat this right now.  I will need to make another batch soon. I'm going into withdrawal looking at these pictures. I hope you give this recipe for Easy Crispy French Toast a try. If you do, please don't forget to COMMENT below.
Enjoy the comfort of food!
++++++++++++++++++++++++++++++++++++++++++++++++++++++++++++++++++++++++++++++++++++
Printable Recipe:
++++++++++++++++++++++++++++++++++++++++++++++++++++++++++++++++++++++++++++++++++++
PS: If you see mistakes (i.e., spelling errors or inconsistencies in the recipe), please tell me right away. I appreciate any help I can get!