Recipe: Easy Classic Chocolate Chip Cookies

Pin It
Do you ever dream about warm, fresh from the oven chocolate chip cookies? You know the kind. Crispy on the outside, but tender and sweet on the inside. Chocolate melting on your hand as you take a gulp of ice cold milk. Ah…for a moment you're in sweet heaven. Well if you've never made them, these classic chocolate chip cookies will bring back those childhood memories of cookies and milk.
You can use this recipe as a base and go crazy. Add in any kind of chopped nuts you'd like, add candy bar piece, white chocolate chips, and dark chocolate chips. Also you may add different extracts (my favorite is orange) and a hundred variations of dried fruit.  You could even substitute a little cocoa for the flour (1/4 cup) or substitute peanut butter for half of the butter. The sky is the limit. Have fun with it.
I also make these into "cookie bars" which I'll post at a later date. It's something that my friends and family come to ask for. Once you try them you'll see why.
They are too easy to forego. I will walk you through the easy steps.
Recipe adapted from: VeryBestBaking
<Scroll all the way to the bottom for a standard printable recipe> 
Here are the basic ingredients: Flour, baking soda, kosher salt, butter, granulated sugar, brown sugar, vanilla extract, eggs, and chocolate chips. (Again, once you've made the basic cookie dough, add in 1 1/2 to 2 cups of add-ins as mentioned above.)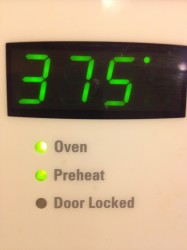 Preheat your oven to 375° F (190°C).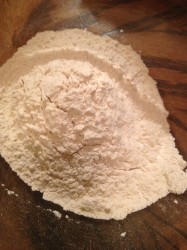 Next it's time to measure the dry ingredients. When measuring dry ingredients (especially flour), it's always best to measure using the "scoop and level" or "scoop and sweep" method. This involves scooping the ingredients into the measuring cup and then sweeping off the excess of the ingredient at top of measuring cup – using a long, flat utensil, like a knife, bench scraper, etc. If you do this over a paper towel or clean kitchen towel, you can easily add back to your ingredient bin (as not to waste). If you do not do this, you risk getting way too much flour than your recipe calls for (net, net, a dry loaf). So after you've scooped and fluffed the flour around a bit to loosen/lighten, take any stiff flat edge and sweep across your measuring cup for the most accurate reading.
Note: I use white wheat flour for health benefits – without the toughness of regular wheat flour. If you don't have it, use all-purpose flour.
Now measure carefully the baking soda and then the kosher salt and add to the bowl with the flour. Be careful not to mound the measuring spoons – level off them just as you did with the flour to get the most accurate reading.
Note: I use kosher salt for baking, but use any salt you have.
To sift the dry ingredients, simply whisk together the flour, baking soda, and salt. Then set aside.
Next it's time to start the wet ingredients.  Add the 2 sticks of butter to a large mixing bowl.
And add in the brown and granulated sugars.
Now add the beater blade to your mixer and get ready to mix the butter and sugars together. This part of the recipe can easily be whisked by hand or by using a large wooden spoon – with a strong arm. I love my stand mixer though and use it often.
No matter what method you use, the butter/sugar mixture should look whippy and smooth – like what you see above.
Add in the vanilla extract and mix to combine.
With the mixer running, add in the eggs one at a time and mix until fluffy (about 2 minutes using a mixer; about 5 minutes by hand).
Now it's time to add the dry ingredients. Here's the stage where it's very important NOT to over-mix. Add one cup and mix for 10-15 seconds; repeat with the remaining flour, adding one cup at a time. If you over-mix you will have tough cookie…which is never a good thing.
Your cookie batter should look thick like the picture above.
Add the chocolate chips to the mixing bowl (or any other add-ins.) Mix either by hand or for 5 seconds maximum using your mixer.  If you're afraid of over-mixing (which will make a tough cookie) mix in the chocolate chips (and other mix-ins) in by hand.
Drop by spoonful onto ungreased cookie sheets (for easy cleanup and cookies that don't stick, use a silpat or parchment paper) about 2 inches apart. Do not flatten cookies or they may get tough. I use a small ice cream scoop to scoop the cookie dough.  I only really use this for cookies.
You can freeze some or all of the cookie dough. I filled a large rimmed sheet pan with pre-scooped cookie dough. I then put the tray in the freezer overnight. In the morning I was able to take each cookie ball off the tray and put in a re-sealable freezer bag. It's a great way to make ahead cookie dough for when you need it later. Just pull the cookie dough balls out of the freezer and place on cookie sheet (do not thaw). Bake frozen and bake a bit longer than you would fresh cookie dough (bake about 14 minutes – but use color as a guide vs. time).
Bake them at 375° F (190°C) for around 9-12 minutes. I baked mine around 10 minutes.
The cookies should start to show a slight brown color on the edges. These are ready to come out of the oven. Remember to keep them directly on the cookie sheet for 2-minutes after they come out of the oven. This helps prevent the cookies from breaking or falling apart when they are removed from the cookie sheet.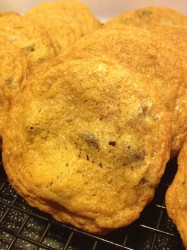 Lay flat and cool completely on a cooling rack.  As they cool, you can begin to stack them as shown above.
Try to resist these, I dare you. If you make these you will have instant friends! If you do try this recipe, please COMMENT below.
Enjoy the comfort of food!
++++++++++++++++++++++++++++++++++++++++++++++++++++++++++++++++++++++++++++++++++++
Printable Recipe:
++++++++++++++++++++++++++++++++++++++++++++++++++++++++++++++++++++++++++++++++++++
PS: If you see mistakes (i.e., spelling errors or inconsistencies in the recipe), please tell me right away. I appreciate any help I can get!