Recipe: Apple Pumpkin Soup

Pin It
I don't know about you, but I'm up to my eyeballs in canned pumpkin and fresh winter squash. I frequently interchange pureed winter squash in my recipes for pureed pumpkin and without fail. As long as the squash is nicely pureed, it looks and tastes just like you'd get from canned pumpkin. It's easy to roast & puree virtually any winter squash (even spaghetti squash). Just place cut side down in oven for 425°F / 215°C for about 40 minutes and puree in the food processor or blender (I'll have another post at some point showing the step by step instructions.)Well I made this soup the other night for the first time and it's fabulous and easy! I'm not one of those people who LOVE soup (like my dear husband Joel). I like it from time to time, but it's rare when I gobble down 2 bowls in one sitting. It's that good – really. I will mention, I am a huge fan of the flavor of pumpkin and winter squash. Love, love, love it!This soup is slightly sweet with a savory flair and warm autumn spices. It is gluten free and can easily also be made into a vegetarian soup. It cooks quickly too if you have canned pumpkin puree or winter squash puree on hand. I hope you give it a try.
<Scroll all the way to the bottom for a standard printable recipe>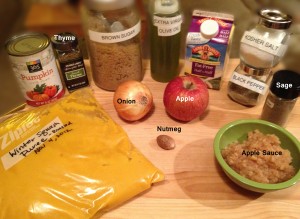 Here are the ingredients: olive oil, onion, tart apple, kosher salt, chicken or vegetable stock, applesauce, black pepper, dried sage, nutmeg, dried thyme, 1 – 15 oz. can pumpkin puree (or 15 oz. winter squash puree), brown sugar, half & half (I used fat free)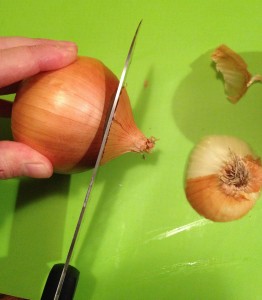 First prepare the onions by cutting each end off.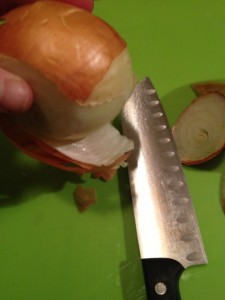 Peel the onion by making a slit with your knife OR you can simply split down the middle – cutting in half with the peel on and then peel it.
Standing the onion on end, cut in half.
Next take the onion on its side and make one or 2 slices – careful not to go all the way through (1/4 shy of cutting all the way through).
Place the onion – flat side down – on the cutting board. Make slices down (careful not to cut all the way through again). Make slices around every 1/4 inch as shown.
Lastly, rotate the onion (still flat side down) and cut down going against the cuts you just made. This gets you a beautiful dice, fast and easily.
Now it's time to dice the apple.  So just as you did with the onion, slice off each end.
Peel the apple with a vegetable peeler or paring knife. After it's all peeled, (with apple cut side down) divide the apple in half down the middle of the core.
Here's a fast and easy way to core the apple:
Step 1 (left image above): Hold the apple half on its side and slice down – attempting to get all of the core to the left of your knife. One half will have a core, and the other will be core-free. When cutting, make sure to get as close to the core as possible to not waste good apple meat. Repeat with the other half of the apple.
Step 2 (right image above): Take the two quarter apples with the core and slice down to remove the core (again – try to get as close to the core as possible to avoid waste.)
Next take the 4 cored apple quarters and cut them in half…and then in half again. You should now have 16 apple pieces (boy am I good at math!)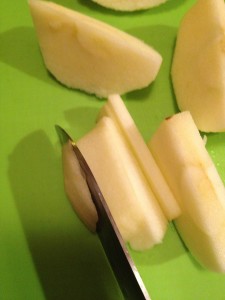 Take each 1/16th apple and make flat slices.
Next, turn the flat slice on its side and make match-sticks.
After you have the match-sticks, arrange knife cut to get final dice. Note: you don't need to dice fine since you are blending later in the recipe; however it saves in the cooking time. Smaller things cook faster than larger.
Heat your stock pot (or large pot) to medium high heat. Add olive oil.
Once the oil is preheated (about a minute), add diced onions and apples and stir to begin the sauté.
Add in the kosher salt and stir to combine.
Sauté until onions are translucent (about 5 minutes). Add in the apple sauce.
Add in the chicken stock (or vegetable stock) and stir to combine.
Add the nutmeg and black pepper…
…dry sage and dry thyme.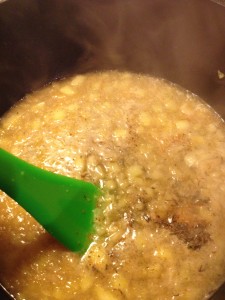 Stir to combine.
Add pumpkin puree and brown sugar…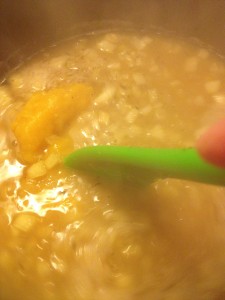 …and stir to combine.
Time to use one of my favorite kitchen tools, the immersion blender. Start the immersion blender once immersed into the soup …
… then lift up a bit and down (be careful – if you lift too high you will get splattered with hot soup). Then go up and down, and up and down…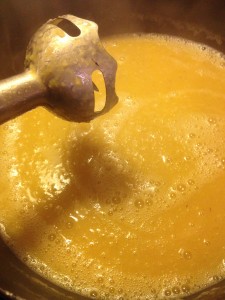 …until you do not see any remaining chunks.
Add the half & half and stir to combine. Let simmer another 10 minutes or so.
The texture is silky right now – if we let it simmer about 5 minutes longer it will get a thicker consistensy.
All ready! As you can see from the pot above, it has cooked down slightly. That makes it a bit thicker and consolidates the flavor.
Enjoy this soup with the garnish of your choice. My personal favorite is snipping the greens from green onions. It cuts through the slight sweetness, making it just right!
Enjoy the comfort of food!
++++++++++++++++++++++++++++++++++++++++++++++++++++++++++++++++++++++++++++++++++++
Printable Recipe:
++++++++++++++++++++++++++++++++++++++++++++++++++++++++++++++++++++++++++++++++++++ 
PS: If you see mistakes (i.e., spelling errors or inconsistencies in the recipe), please tell me right away. I appreciate any help I can get!