Valentine Chocolate Crinkle Kiss Cookies Recipe

Pin It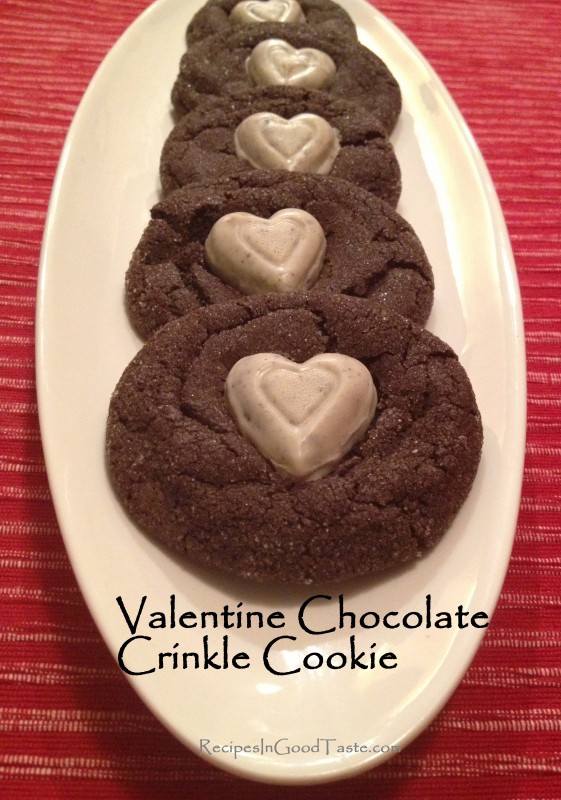 These Valentine Chocolate Crinkle Kiss Cookies are really quite good. They have such a deep chocolate flavor and the cookie is just slightly crispy on the outside but it is still soft enough to be bendable. These were an unexpected gem!
I found these cookies & cream hearts at a Walgreens and had to find some recipe to use them in I've been "kissing" things right and left if seems like these days. Any "kiss" cookie you can add a small peanut butter cup, chocolate, caramel covered chocolate of whatever. It's so much fun to add these to a cookie.
Let me show you how to make these Valentine Chocolate Crinkle Kiss Cookies I adapted from AllRecipes.
If you need more visuals for recipes, just CLICK HERE for step by step instructions with pictures in my recipe blog post.
Enjoy the comfort of food!
Valentine Chocolate Crinkle Kiss Cookies
Print recipe
These Valentine Chocolate Crinkle Kiss Cookies are really quite good. They have such a deep chocolate flavor and the cookie is just slightly crispy on the outside but it is still soft enough to be bendable. These were an unexpected gem! https://recipesingoodtaste.com/?recipe=recipe-valentine-chocolate-crinkle-kiss-cookies
Ingredients
2 1/2 cups white wheat flour (all-purpose ok)
3/4 cups unsweetened cocoa powder
1 teaspoon baking soda
1/2 teaspoon kosher salt
1 1/4 cup butter, at room (2 1/2 sticks)
2 cups granulated sugar
2 Large eggs
2 teaspoons vanilla extract
40 chocolate candy kisses, unwrapped (I used a cookies & cream heart, but you can use anything you want)
1/4 cup granulated sugar (for rolling)
Note
Recipe URL: https://recipesingoodtaste.com/?recipe=recipe-valentine-chocolate-crinkle-kiss-cookies
Directions
| | | |
| --- | --- | --- |
| Step 1 | | Preheat your oven to 350°F (175°C). Prepare your baking pan by using an ungreased cookie sheet, silicone, or parchment paper lined cookie sheet (see post for outcome for each option). |
| Step 2 | | In a medium bowl, combine the flour, cocoa powder, baking soda, and salt. Whisk together and set the dry mixture aside. |
| Step 3 | | In large mixing bowl using a hand mixer (or using a stand mixer), beat together the granulated sugar butter until it is fluffy. Beat in eggs one at a time and then the vanilla extract. Alternatively you can mix vigorously with wooden spoon. Mix gently or stir in dry mixture. |
| Step 4 | | Shape the cookie dough into about 1- 1 ½ -inch balls. Gently roll the balls in a bowl of granulated sugar. Place them about 2 inches apart on ungreased cookie sheet (I use a parchment lined baking sheet). |
| Step 5 | | Bake them for 8 to 10 minutes or until the edges are starting to get light brown. |
| Step 6 | | Remove the pan from the oven and immediately press 1 cookies & cream heart OR chocolate candy in center of each cookie. Let them rest directly on the cookie sheet for 2 minutes (to help firm up so they don't fall apart when you remove them) and then remove the cookies gently from cookie sheet to wire rack. |
| Step 7 | | Store in an airtight container for up to a week or freeze in a freezer bag or container for a couple months. |